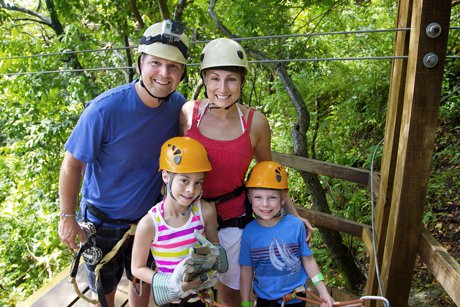 The spirit of adventure knows no bounds for those living in Raleigh. Outdoor enthusiasts get extreme at Go Ape Treetop Adventures. The sky's the limit and participants have an absolute blast as they climb high into the North Carolina treetops and get ready to soar like a bird. Once in the canopy folks start to feel a little wild and rambunctious. A unique experience awaits with airbound zip lines, larger than life obstacle courses and even a Tarzan jump.
Safety first is an important motto and one recognized and adhered to by Go Ape. Before the fun starts the rules of the day are explained. Expert staff members go over all the details, making sure everyone is comfortable before heading out. A variety of courses appeal to all levels. Thrill seekers living in Raleigh frequent the treetops loving the thrill of fresh air rushing through their hair as they cruise on the zipline. And, a great many timid souls have felt the satisfaction of success by stepping out on the ledge and letting go of their comfort zone. Plenty of first time visitors have conquered a fear of heights and turned into frequent flyers.
Adventure Seekers Spread Their Wings over Raleigh Real Estate
Blue Jay Point County Park sets the scene for this adrenaline rush making it a convenient and quick getaway for families in the Raleigh real estate region. An ideal spot, parents from all over the area make memories with their children in the fresh air and outdoors. Kids as young as 10 years old can take part in the highest course while younger siblings monkey around on the junior course. In order to ensure that one has the best of times, closed toed shoes are required and activewear attire recommended. Water stations are scattered about the landscape for thirsty souls. Reservations may be made online. Find some time to play in the forest and fly through the sky today.