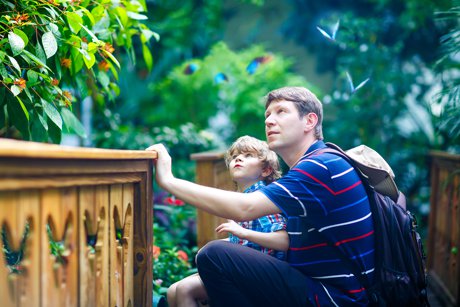 Sink into science on Durham real estate. At the Museum of Life + Science minds are awakened and senses stimulated as visitors walk the grounds. Informative and hands on displays bring various forms of science to life satisfying the most curious of guests.
Energy is expelled in the Hideaway Woods where everyone is an explorer. There are bridges to traverse and streams to cross all while getting back to nature. Prehistoric beasts roar to life on the Dinosaur Trail. Larger than life sculptures dot the pathways stirring imaginations. Dig sites highlight the responsibilities of real life paleontologists. Those not afraid to get their hands dirty can actually dig in and possibly unearth a shark tooth or fossil.
Beautiful transformation takes place in the Magic Wings Butterfly House. Lush greenery creates a rainforest setting perfect to house these delicately winged insects. Daily releases are awe inspiring for observers. Nearby the Bayer Insectarium holds other interesting bugs including the Giant Orb Weaver Spider.
Animals Living in Durham Are Utterly Amazing
The world's animals make their home on this piece of Durham real estate giving a glimpse into the wonderful diversity Mother Nature provides. North Carolina native animals highlight those creatures local to the state including owls, alligators and muskrats. Guests step out on an observation deck and check out American Black Bears as they roam free in their natural habitat. Nearby, the antics of the lemurs may cause lots of laughter, but these lovable creatures are listed as endangered. Learn all about the adorable critters that hail from Madagascar. Another endangered and majestic beast on the property is the Red Wolf. Observers of this proud animal easily admire its grace and power.
Everyone is welcome to enjoy the Museum of Life + Science. Hours are seasonal and can be found here. Many Residents living in Durham plan trips during Durham Community Days. Those with current identification receive complimentary admission making the park affordable to one and all. Come and explore.