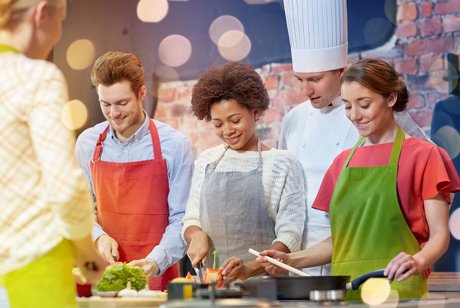 It's easy to become the hostess with the mostess when living in Cary, North Carolina. Welcome to Whisk a dream location for chefs of all levels. Cooking connoisseurs can improve their skills, shop for top of the line products and seek out advice from skilled resident chefs. Located in the Waverly Place Shopping Center, this go to locale, is convenient to homeowners in and around the Cary real estate area.
Classes are either Hands On or Interactive. Both formats are intriguing and informative. Those who learn by doing love to get in on the action cooking side by side in a hands on class. Others may prefer to sit back and take notes as expert chefs whip up a delicious dish for attendees to devour in interactive classes.
Mouths Are Watering on Cary Real Estate
Curriculums are designed for all skill levels of students, and class size is limited to maintain an excellent level of interaction between participants. Spice is life and the schedule overflows with variety of international flair. From Chinese to Italian to Latin to American every palette is sure to be salivating. A variety themed classes add an extra element of fun. Popular editions include Iron Chef and The Culinary Magic of Harry Potter. Private classes are great experiences for family and friends. More information on how to schedule a private party can be found here.
Teach them young with tasty results. Kids camps bring little chefs into the spotlight and are open to youngsters 7 to 13. Basic skills in the kitchen are introduced along with the creation of delicious dishes that are designed to impress. International menus are often focused on and personable instructors foster a love of cooking in camp participants. It's money well spent when the offspring puts dinner on the table.
Residents living in Cary throw the best dinner parties after completing classes at Whisk. Guests will be impressed and begging for doggy bags. Take a peek at upcoming classes and grab your apron. It's time to get cooking.